INTERNATIONAL CERTIFICATION ON PERSONALITY TYPE ASSESSMENT USING 5 STEP MODEL
Dr. Muhammad Qamar ul Hassan, the pioneering expert in Personality TYPE and TYPE-Based innovations in Pakistan, has crafted the 5-STEP Model of Personality Type Assessment. With 17 years of experience, he has aided both industry leaders and up-and-coming professionals in recognizing and cultivating their Personality Types. His expertise extends to utilizing Personality Type insights for leading happier, healthier, more contented, and prosperous lives. Dr. Qamar's contributions have positively impacted over 500,000 individuals from Pakistan's top 70 organizations, providing them with innovative Type-based solutions.
80+ Corporate Organizations

50,000+ Professionals Trained
Who Should Attend ?
Member Of Human Resource Department
Why Become PERSONALITY TYPE ASSESSOR Certified?
The vision of this certification program is to inculcate the essential knowledge and skills you need for Personality-Type insights. The program contains 5 learning modules. This program prepares you to assess the Personality-Type in Individual and group settings using the Five Step Personality-Type assessment model developed by Dr. Qamar.
The overarching goal of the certification program is to help you learn the essential knowledge and skills required to become assessor personality type assessment expert world-wide.
Learning Approach
Delivered online, this program embraces the value of experiential learning throughout. Supported by a highly interactive training platform – comprises of 5 learning modules. And a few of them facilitated via Zoom. The modules can be completed on your own schedule.
Once registered, you'll have immediate access with up to 90 days to complete the curriculum and pass the certification exam.
We estimate that it takes around 12 hours to complete the program.
This is similar to the time commitment for the four-day Type based Assessment Certification Program. However, the self-guided program allows you to break up your learning into manageable chunks that fit your own schedule.
What is a Preference? (understanding preference).

Discover the Preference in the first dichotomy of Extroversion and Introversion.

Discover the Preference in the second dichotomy, Sensing and Intuition.

Discover the Preference in the third dichotomy, Thinking and Feeling.

Discover the Preference in the fourth dichotomy, Judging and Perceiving.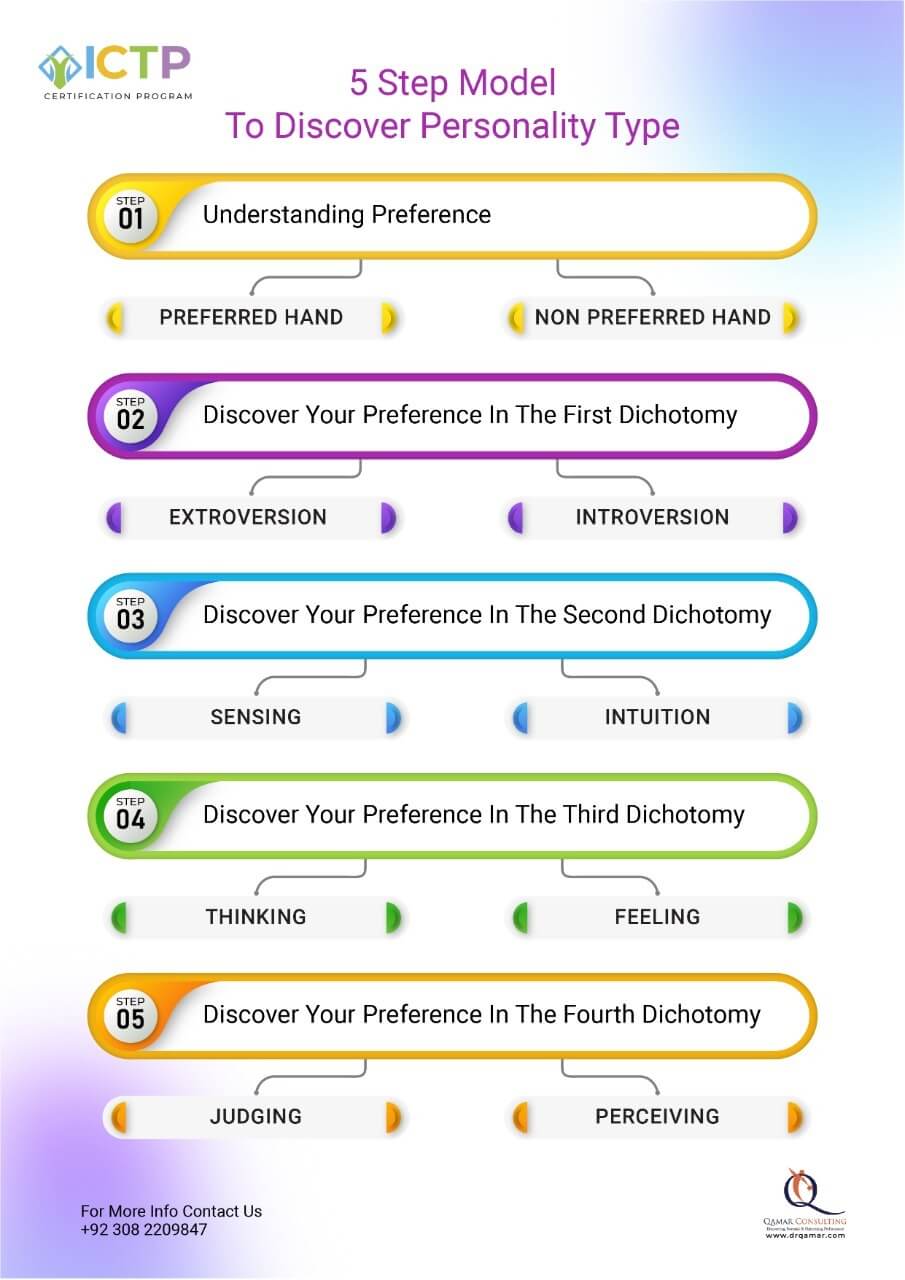 The 5-Step Model, by Dr. Qamar …